Who
we are
Our Expertise:
With years of experience in the landscaping industry, we have honed our skills to deliver excellence in every aspect of garden design, implementation and sustainable garden care.
From the initial consultation to the final installation, we work closely with you to understand your desires and aspirations, ensuring that the end result exceeds your expectations.
Partner and manager of Garden 360uk
As a gardener, I embody a harmonious blend of knowledge, skill, and creativity. I have honed my expertise in horticulture through RHS formal education and hands-on experience. I am well-versed in a wide range of gardening techniques, from soil preparation and plant selection to proper pruning and pest control. My understanding of botanical science enables me to create and maintain gardens that flourish with a healthy balance of colors, scents, and textures.
Partner of Garden 360, Responsible for "Landscape Technical Management" and "Tree Pruning"
Graduated in "Technical landscape management" at the agricultural University of Perugia, Italy.
Continuous specialization in "management and maintenance of trees in an urban environment" at the school "Alberi Maestri di Assisi", AiFOS recognized specialist training center. He collaborated with the Municipality of Rome, for the census of trees of historical and landscape value at the historic villas of the Municipality.
I always did landscaping and horticulture as growing up in the countryside of Sardinia, I only made of this passion my priority job with GARDEN360 in the last 5 years. Strong ethic and passion are my trowel and bucket. 
With 15 years of diverse experience in both Italy and the UK, specializing in hard landscaping and interior projects, my passion lies in the careful selection of materials for each unique project, as well as witnessing the gratifying outcome. I consistently embrace opportunities for growth and enthusiastically tackle any challenges that come my way.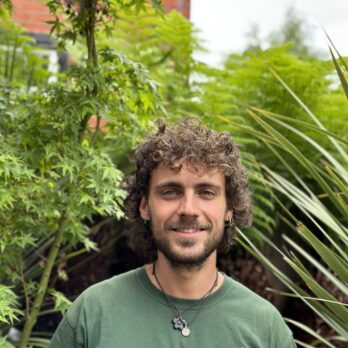 I found my way into gardening through my combined love for horticulture and nature. My first taste of gardening started 4 years ago and since then it's become more of a passion than a job. Being a part of the Garden 360 team enables me to develop further in horticulture whilst connecting with nature everyday. My ethos is simple… plant trees, save bees.
I'm a landscaper with more than 4 years of experience making outdoor spaces look like works of art, combining my artistic sense with my craftsmanship. I love bringing designers' and clients' visions to life and creating beautiful, unique outdoor spaces. When it comes to creating precise, meticulous designs, you'll never find me without a tape measure and sharpened pencil.
I am a passionate gardener with a deep love for nature. With years of experience and a genuine appreciation for the beauty of the outdoors, I find immense joy in creating and nurturing vibrant, thriving gardens.
I have been gardening for just over five months after completing an environmental science degree at university. I love the natural environmental and understanding ecological processes. Working in gardens and understanding how these green spaces operate is highly interesting and learning the names and functions of all the types of plant, fauna and flora and how they work in tandem with one another is fascinating.
I've always loved the surrounding landscapes of where i grew up & what it provides for nature. Since I started Horticulture 15 years ago I've become to learn more about what more we can do to provide habitats for wildlife to thrive in. Since working for the RHS I was inspired to do more not only for the environments but on how to give the best garden for that person in different environments. There's nothing more satisfying than seeing someone using the garden you help maintain & seeing nature at its best.
We believe that gardens and landscapes have the power to elevate outdoor living to new heights. At Garden 360, our mission is to create bespoke outdoor spaces that go beyond aesthetics and truly enhance the lives of our clients. Through our passion for landscape design and our dedication to precise craftsmanship, we carefully craft gardens that not only captivate the eye but also provide a haven for relaxation, entertainment, and connection with nature. By integrating personalized features, sustainable practices, and innovative design elements, we aim to elevate the outdoor living experience, allowing our clients to forge lasting memories in their own private paradises.
Environmental
Responsibility
Our second mission is to promote sustainable practices and minimize our ecological footprint. We believe that beautifully designed gardens can coexist harmoniously with nature. That's why we incorporate environmentally friendly elements into our designs, such as native plants, efficient irrigation systems, and rainwater harvesting solutions. By using zero-emission tools and employing eco-friendly garden care practices, we strive to protect and preserve the natural environment while creating stunning landscapes that stand the test of time.
Inspiring Environments, One Garden at a Time
Our ultimate mission at Garden 360 is to inspire and enrich lives through the creation of breathtaking garden environments. We believe that a well-designed garden can have a transformative effect on individuals and communities, fostering a sense of peace, harmony, and joy. By meticulously crafting bespoke gardens with extreme precision and attention to detail, we strive to create environments that inspire and connect people with the beauty and wonders of the natural world. We are dedicated to making a positive impact, one garden at a time, and we are honored to have the opportunity to bring our passion and expertise to every project we undertake.
Our
Portfolio
Some of our past works.